If you are interested in processing PEEK on your Filament Maker make sure to read this page as it provides you with the required knowledge to experiment safely.
PEEK is the most iconic high temperature, high performance polymer. It is not necessarily difficult to extrude, but any mistake in the workflow can lead to catastrophic failure. Preparing your experiment and anticipating issues is the key to success.
1. Reaching the danger zone
PEEK must be processed around 400°C but cannot be left inside the barrel during shutdown.
Devoclean HighTemp can be used as a transition material, melting from 290°C up to 420°C, but cannot be left inside the barrel during shutdown either.
--> Every PEEK extrusion session starts with a Filament Maker full of Devoclean MidTemp EZ, which can only be processed up to 320°C. A
multi-step transition
process is the only safe way to the PEEK temperatures :
the Filament Maker is full of Devoclean MidTemp EZ
Start extruding at 300°C
Empty the hopper completely (not a single Devoclean MidTemp EZ pellet should be visible in the throat)
Feed 400g of Devoclean HighTemp
Wait for the MidTemp --> HighTemp transition to be complete
Set all temperatures on 400°C (H1 on 405°C)
Keep extruding HighTemp (at 2RPM) until the temperatures have reached the targets (H1 above 400°C especially)
!!! HighTemp smoke and discoloration are expected. Please do not switch off the machine
Empty the hopper completely
Start feeding PEEK
2. Do not use the PEEK presets
PEEK presets were included in the firmware of the Filament Maker, in the Material presets menu. But each grade of PEEK is unique. Please do not use the presets. It is wiser to look for optimal settings yourself, starting your first PEEK experiment on 400°C, 5RPM. Starting the test with insufficient temperatures can lead to an instant, irreversible clogging.
3. Working in the danger zone
If the nozzle temperature is not high enough, PEEK might solidify at the tip and clog the machine. If anything goes wrong, the best reaction is to empty the hopper and feed Devoclean HighTemp. When looking for optimal settings, lowering the temperatures should be done slowly and with extreme care. H1 especially should not be set below 395°C. Please keep in mind that neither PEEK nor Devoclean HighTemp can be left immobile inside the barrel, even for a minute. If anything goes wrong, you should:
purge the PEEK with HighTemp, making sure all PEEK has been removed
keep extruding HighTemp until the temperatures cool down to 300°C
transition to MidTemp EZ (all the HighTemp must be removed)
only then it is safe to switch off the Filament Maker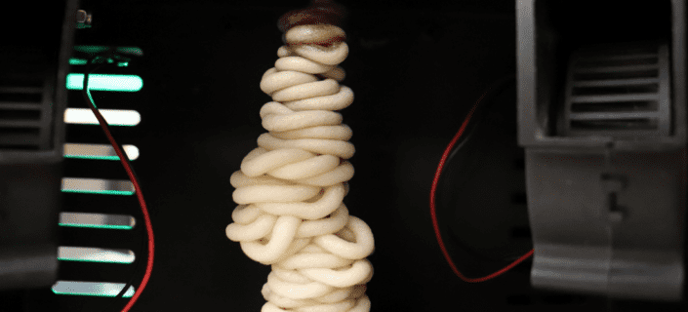 4. The full procedure
We recorded a long, detailed PEEK extrusion walkthrough. We highly recommend you get familiar with that content before starting to experiment.